ROB & BONNIE GILES
Senior Pastors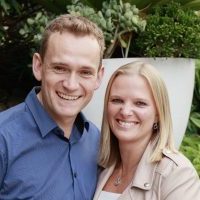 Rob and Bonnie joined Northridge in 2007 after emigrating from the UK, and together they lead the Morning Community and an awesome team of staff and volunteers. They also take care of their 4 kids – something that they also enjoy doing together.
Originally from Cape Town in South Africa, Bonnie trained in Youth Work in the UK and gained experience in church and schools ministry in her time there. Bonnie has a passion for discipleship and strategic leadership, and is a gifted communicator.
Rob worked in the I.T. industry for 10 years before joining the staff at Northridge as the worship and assistant pastor in 2013. A gifted worship leader, Rob has a relaxed and natural way of communicating, and a love for teaching the scriptures.
ANNA HARDING
Worship Pastor
Anna joined the staff toward the end of 2018, and together with her husband and kids, has been a regular member of Northridge for quite a while. Initially trained in Music Ministry at Wesley Institute, Anna has been involved teaching and has a passion for helping children with learning difficulties.
KATE PRYOR
Children's Pastor
Kate joined the staff in June 2009, and oversees Children's ministries for the morning community. Kate believes that children have valuable stories and experiences to share with us and that there is so much we can learn from watching our kids live out their faith. She lives locally with her husband, Garth.
SAM HENRY
Youth Pastor
Sam has grown up at Northridge, helping his parents since the early days of the church. Sam now oversees the Youth Ministry across all our Communities, including Sunday morning Youth. He has a huge heart for youth, and loves seeing them encounter God for both the first time or the millionth time.